Hey, body every !!!!! I have a sexy af cover to share with all of you today and I'm so thrilled and honored that I have the pleasure of being one of the many, many, many blogs to help reveal this jaw-dropper with everyone!
I'm an enormous die-hard fan of Crownover so I'm literally jumping in my seat just typing this! I love, like crazy, stupid love, her
Marked Men
series to the moon and back times infinity so I'm stoked that she has a new series releasing this year! I'm serious—die. hard. I am through-the-roof happy that I'm getting more Crownover, yayay!
Check out the cover and let me know what you think! Crownover has stated that it's her most cover up to date. O.O That's definitely saying something, eep! Without further ado... ogle away! ;p
So? What do you think? At first glance, it looks way different and you're probably missing that
Marked Men
feel but after you really stare at it, it totally becomes its own cover and it has Bax written all over it, literally! Even though we have yet to meet him, I just know that this cover is Bax through and through, like... I can feel it! ;p It totally captures the bad vibe and it's like, "Holy schmidt, *reaches around for a seat belt* this is going to be a crazy ride!"
Eep! Like it, love it, gotta have it? ;p Let me know your thoughts and feels in the comments below!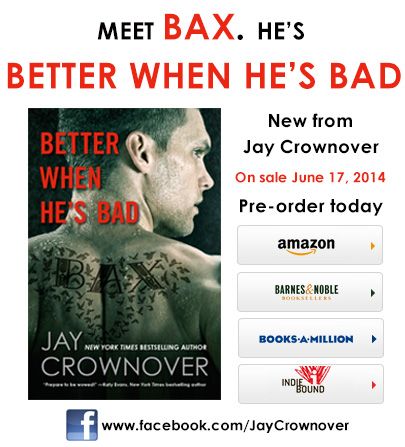 About the author:
Rule
,
Jet
, and
Rome
. Like the characters in her
Marked Men
series, she is a big fan of tattoos. She loves music and wishes she could be a rock star, but since she has no aptitude for singing or instrument playing, she'll settle for writing stories that have interesting characters and make the reader feel something. She lives in Colorado with her three dogs.
Connect with Jay Crownover:
Website
|
Facebook
|
Twitter
|
Goodreads
This post is brought to you by: