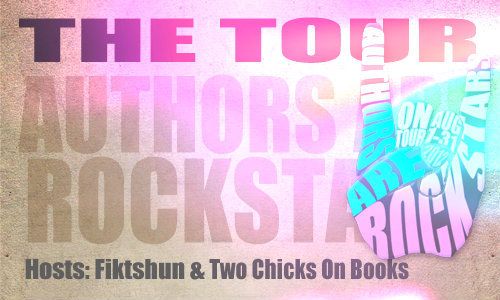 Today as a part of the Authors Are Rockstars Tour, I get to host the fabulous and one and only, Leahfreakin'Clifford - Queen of Dark and Twisty! ;)
The best way for me to express how much I love Leahfreakin'Clifford is to whip out my arsenal of gifs. There's just so much I want to say and the only way to clearly express those feels are through gifs.
Leah Clifford is one heckuva rockstar author to me because when A Touch Mortal debuted, there were so many mixed feelings about it that I just got the impression that it wasn't going to be something that I would thoroughly enjoy. Therefore, you can only imagine my shock when I fell head-over-heals-dumbfounded-in-all-sorts-of-crazy-stupid-love for A Touch Mortal.
After a few chapters into ATM, I was feeling like
which kinda freaked me out because I started leaning into "DNF territory" but I whipped myself together and pulled through it. After those first few chapters, I realized
SHIT JUST GOT REAL
But then I was like
shit didn't get
that
real because it was time to
As I read further and further into ATM, I started feeling like a variety of all of these.
That's Leahfreakin'Clifford killing my heart.
Needless to say, Leahfreakin'Clifford hit me
Oh no, that wasn't just all, though. The ending to ATM had me
And I was all like
And now, you'll just have to pick up A Touch Mortal to see if
anything
even went down!
Leah Clifford is my rockstar author because she made me love a book that I originally had no intention of loving. Her writing and world building and just everything shocked me off my feet. I was like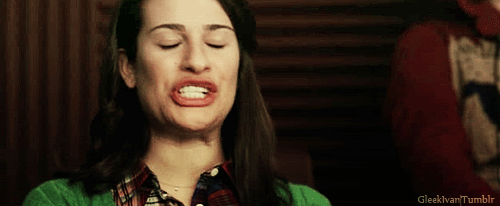 She really took me to where her characters were; she made me feel like I was strapped in right next to Eden in the crazy roller coaster ride that is A Touch Mortal. She made me go through all the feels and she kept me guessing--constantly--what the heck was going to come next because I couldn't, for the life of me, even comprehend what next evil genius she was going to throw my way. Some surprises came at me in such a quickness, that I couldn't even duck in time and I would end up just standing there, jaw-dropped, thinking
And one of the main reasons why Leah Clifford is such a mad genius is because of her idea of Touch. I still can't wrap my mind around such a brilliant idea and...yeah, I'll just leave the seat belt on because I'm gonna go for round two, three, four, five, ten of anything Leah Clifford!
About the author:
Leah Clifford currently lives in Ohio with her (mostly) blind cat and her roommate, who she's been friends with since sixth grade. In her spare time she loves to travel and has been known to drive over two hours to get kickass quesadillas. So far for jobs she's sold corn at a roadside stand, been a pizza delivery girl, a camp counselor, an extreme cave tour guide, a flight attendant, a waitress (x3), a grocery store clerk and a writer. Out of all of them, writing has been the most fun. She's pretty sure she's gonna stick with it.

Find Leah Clifford Online: Website | Twitter | Facebook | Blog
Q. Hi Leah! This is like a huge freak the freak out moment for me so…bear with me as I'll probably be all over the place. Omg, okay. So, I always call you the Dark and Twisty Author because…well, because your novels are so dark and twisty, they're creeptastic! How do you do it!? I mean is it the locations you pick? The words that you use? Something that you do just evokes this skin-crawling feeling…which is like so epic.
Well, first off, thank you! I think the things that unnerve us most are the same things that are normal 99% of the time. The dark isn't usually dangerous. You can walk through an alley hundreds of times before you hear footsteps speeding up behind you. When the familiar becomes terrifying it unnerves me on such a deeper level, and so that's what I shoot for in my writing. People also seem to fear death not going as planned. Zombies, vampires, Siders, ghosts—whatever the case may be—scare us. That was especially fun to play with in this trilogy.
Q. The storyline for your novels are so complex and there's so much to the story that I was seriously amazed. One thing in particular that stopped me in my tracks was the idea of Touch. How did you come up with that? I loved it—genius skills right there!
Touch came early on, with the first versions of the Suiciders. They were more like reapers then, and so I knew I wanted to do something with their touch and how it affected others. The more I wrote the story, the more I realized Siders weren't reapers and Touch was born. I liked the idea of a supernatural creature that walked among us, perfectly natural and at ease. Plus, it goes into that normal as creepy question earlier. How many times during the day do you touch other people? Even something as simple as getting change at the grocery store could mean death.
[BOB: That is something to seriously think about! Something so normal as going to the store but when you put it like that, it could be oh-so-creepy!]
Q. I think I remember you mentioning that you've never been to New York, where your story takes place, when you wrote A Touch Mortal, so how was it for you to write about a real place that you've never been? I mean, I think it's totally cool because when I was reading it, it all felt so realistic, but on the writer's side, how did you go about doing your research for all the locations found in your novels?
When I wrote A Touch Mortal, I'd only been to New York City for a brief moment. Basically, we walked through Times Square and then spent about half an hour on 5th Avenue before taking off. Hardly a glimpse. Most of the time when I was writing, I just wrote. I felt like it wasn't my story, like it was being told to me and I was writing it down. Maybe it came out of those few minutes. I don't know. A few locations, I visited via Google Maps and used the street view. The cemetery gates that Eden climbs over to meet Kristen in A Touch Mortal are only there because I saw them on the internet!
[BOB: See!? That takes mad skill right there!]
Q. I haven't read A Touch Morbid yet but I also heard that Kristen gets a point of view in it. How was it to switch point of views from one character to another? Did you find that you liked writing from one character's point of view over the other?
I loved writing Kristen's point of view. Jarrod also has a point of view in the book for the first time. It was great fun to get inside both of their heads for different reasons. Kristen is fighting a losing battle against schizophrenia, and her breakdown scenes were some of the hardest scenes mentally that I've ever had to write because I really lost myself in them. It was fun to write Jarrod's point of view because he comes across as such a jerk in A Touch Mortal and in A Touch Morbid, readers really get a look at who he really is and why he acts the way he does.
Q. And while we're on the topic of characters, which one of your characters do you like more? I know, that question is like...asking you which one of your children is your favorite, but if it came down to life or death, who would be your favorite? I mean, you have an excellent group of characters and I love all of them but there are a couple of characters that I just can't enough…page time with, lol!
See, this is why I can't ever have kids, or can have only one, because I have no problem answering the favorites question. Kristen is my favorite character. Her interactions with Luke always crack me up and I feel like they kept me on my toes.
[BOB: Eep, she's totes my favorite too--second to Luke, of course!]
Q. Oooh, this is a fun question that I always try to ask: What literary character (from any book) would you snog, which would you marry, and which would you avoid?
Haha! Oh gosh. I'd snog Caden from Courtney Allison Moulton's Angelfire series. I'd marry Sam from Maggie Stiefvater's Wolves of Mercy Falls series. And I'd avoid Catherine Lansing from Scott Tracey's Witch Eyes series.
[BOB: Ooh,
very
good choices! I'd totes do the same, although I haven't met Catherine yet!]
Q. I know most authors generally get asked, "What inspired you to write so and so...?" and you know, that's what the Book section and the FAQ on the author's site are for, right!? LOL, so instead, let's pretend this is twitter for a second. How would you pitch A Touch Mortal in 140 characters or less? How about A Touch Morbid? A Touch Menacing?
A Touch Mortal: Hot boys with wings will get you killed. Luckily, death isn't the end. But Eden isn't a normal Sider and not all angels are playing nice.
A Touch Morbid: Kristen is losing her grasp on reality while a mysterious mortal gets closer to Eden's crew. With everything crumbling, who can be trusted?
A Touch Menacing: Sacrifices have been made, but were they worth the cost? Az and Gabe are desperate to save the Siders. Will the price be too much to bear?
[BOB: Dude, you don't understand how much I loved that! All three of those made me all tingling and excited!]
Q. How do you know when to keep going or end a chapter? Often times, authors say the characters speak to them and it's kind of an "I just know!" moment, lol! So, how do you know? When does the moment feel right to you? Do you like to keep the readers in suspense? Or do you just end the chapter whenever you feel like it? Or a little bit of both?
I think most times you just know. I like to end on something that gives you no choice but to flip the page to the next chapter.
Q. We're all anxiously awaiting A Touch Menacing's release which means the Touch series is over [insert sad face here] but is there anything new that you're currently working on or…going to work on after edits and revisons ;)? I remember you saying something about writing about rockstars and guys in a band. Is that your next project? If so, I'm totes excited!
Oh, I have lots of things snapping and popping around in my brain these days as I gear up to start something new. The rockstar idea is on the back burner for now, but rest assured my new shiny is sparkly! Unfortunately, I can't tell you much about it other than it has my agent intrigued!
[BOB: ROCKSTARS!]
Q. And lastly, fill in this blank: "And I'll state something rash. He had the most amazing _______!"
"...pet raccoon. It could stand on its hind legs and clapped for treats!"
I told myself I would only ask you like...five questions but I got carried away. Really carried away but thank you SO much for taking the time to answer my absurd questions! Thank you SO much for stopping by BOB; it was an enormous pleasure having you here with us today! You seriously are one of my rockstar authors!
Thank YOU so much for having me! It's been a blast answering these and was a total honor to be picked as your rockstar author!!
About the book:
Title: A Touch Mortal
Author: Leah Clifford
Publisher: Greenwillow Books
Release Date: February 22nd, 2011
Eden didn't expect Az.

Not his saunter down the beach toward her. Not his unbelievable pick up line. Not the instant, undeniable connection. And not his wings.

Yeah.

So long happily-ever-after.

Now trapped between life and death, cursed to spread chaos with her every touch, Eden could be the key in the eternal struggle between heaven and hell. All because she gave her heart to one of the Fallen, an angel cast out of heaven.

She may lose everything she ever had. She may be betrayed by those she loves most. But Eden will not be a pawn in anyone else's game. Her heart is her own.

And that's only the beginning of the end.

• • • • • • • • • • • • • • • • • • • • • • • •

Related Posts: Book Review
And now, a little treat for all of Leah Clifford's Darklings!
Prologue

Her arm yanked hard Sullivan shrieked in surprise, laughing through the burn in her shoulder. Ronnie's hand slid down her sweaty skin as they plowed to the dance floor, burrowing into the crowd. She grabbed his shoulder, spun him around and jerked him closer. One second, a stride apart, the next, his hips grinding into hers, hands buried in her hair. Sweat glistened on his skin, red and blue and yellow in the strobes. She tasted salt on his lips, Crown on his breath. Sullivan pulled back, smacking his shoulder.

"You prick. Whiskey?" His smirk, the half cocked grin she normally swooned over, only pissed her off.

She shifted, pulling him with her so she could keep a better eye on their cups. No one had wondered close yet.

"One shot," Ronnie was saying when she tuned back in. Now it was her turn to smirk, her arms crossing. "Okay, fine," he said. "Three. But I'm done!" His voice raised with the whiny promise, a bent finger sloppily crossing his heart. Sullivan nodded once, letting him off the hook though he'd obviously gulped his way past the triple shot mark long ago.

He stepped back, keeping up with the beat. She twisted, grinding against him as her eyes ventured around the room, past tables, their cups. She lifted her arms as she turned back to face him, draping them over his neck. She shook her head.

A shoulder banged into hers from behind. She twisted to find Ani, her head tilted toward the cups.

"Any takers?" she asked.

"Nothing!" Sullivan yelled above the thumping bass. "Are you sure it happened here?"

Tonight wasn't looking promising.

"Bathroom," Sullivan called to Ronnie. Ani grabbed her hand, but Sullivan shook her off. "Watch the cups!"

Last week ended with Dave, Ani, and Christian all out of their minds happy. Tripping on something that had kicked in an hour after they'd left the club last weekend. It had to have been from the club. Did you smoke something? she'd asked once they'd sobered up. Was it a pill?

She stared back at the cups. No one close was enough to slip anything into their drinks. A trickle of disappointment found her. Maybe if I'm holding the cup, someone would be more likely to spike it? Act distracted, hold it out to the side while she was turned away? Seemed like a solid plan. As soon as she got back from the bathroom she'd give it a go.

She couldn't seem to catch her breath, the air thick, laced with cologne and sweat. The crowd fizzled out just before the opening to a dim hallway. Girls lined up along one wall. Most of them weren't there to use the stalls, just eager to get in front of a mirror. Her eyes drifted shut as she leaned her head back.

"Are you a happy girl?"

She opened one eye, taking in the guy who stood in front of her. Dark spiked hair. Too much gel for her taste, but a mouth sexy enough that she could overlook it. Rest of him wasn't bad either, but from the way he smiled at her, it was damn clear he knew it. She closed her eye again, blotting out his face full of ego, adjusting against the wall in an obvious blow off.

"Because I hear you're looking for Touch and it's only for happy girls." Her eyes snapped open. The drug.

"Touch." Even the feel of the word on her tongue sent a surge of anticipation through her.

"It's twenty bucks to get tipped. I haven't passed tonight, so you'll get your money's worth." She dug in her pocket as he spoke, pulling out the cash, the new slang bubbling in her brain. Touch. Getting tipped.

"My friends," she said, trying not to sound overeager, play it cool. "They were looking for…Touch too."

"No worries. I have enough to go around."

She handed him the twenty. He tucked the money in his back pocket before he pulled a glove off.

"Hold out your hand."

She smiled. The way he drew things out, made the sale a big production, only amped her up. His fingers caressed her palm. She couldn't take her eyes away, waiting for him to produce the pill. She wondered if it'd be small enough to dry swallow or if she'd have to head back to the table and reclaim her drink. If it'd dissolve on her tongue.

"You're good to go." He dropped his hand, her own left empty and hovering between them for a beat before her rage spilled over.

"How stupid do you think I am?" she spat. "Give me my money back, asshole."

"Not a chance." He laughed. Actually laughed at her. "And I'd lose the anger right quick if I were you. When that kicks in you're gonna wanna make sure you got a smile on your face." Fishing around in his pocket, he pulled out her twenty, the folded bill between his fingers. "Tell ya what." A smile flashed in his eyes as he teased her with the cash. "First one's on me. Something tells me you're gonna be a repeat customer."
What was that you asked? It's a never before seen, actually it's not even used in the book at all. That my Darkling friends, was an unused prologue from Morbid!
EEP, what did ya think!?
Note: If you've read the book, you'll know what this scene is. If not, it's not spoilery.
Leah Clifford, hands down, is one super amazing rockstar so don't blame me if I become a Leahfreakin'Clifford groupie! ;)