Today's post is one of the very many that you'll be seeing from now until
Shadows in the Silence
hits bookstores on January 29, 2013. I am a huge fan of the Angelfire series by Courtney Allison Moulton and I am terribly heartbroken over the fact that it's all coming to an end very soon... but that very reason is exactly why this calls for an all out boom-sha-ka-la-ka celebration leading up to then.
But for reals on the heartbroken thing. I am so distraught over this series ending. CAM sent me a galley of Shadows back in August September and I have yet to finish it. You would think that because I am the biggest fan... like ever a ginormous fan that I would have finished it by now but like... seriously, I don't think you guys understand how incredibly hard it is for me to let these characters go. I just can't, I refuse, actually. I told myself I'll give myself time to accept that fact but...
These books and CAM's amazing writing just did something to my heart me that I am so unbelievably sprung over Will them that I probably won't ever be able to get over the level of epic found in those pages.
One day, Nicole from
The Reader's Antidote
, asked me if I would like to host this
Angelfire
read-along with her and
without any pause
, I immediately jumped on it because well... because I
effing
love the books so darn hard and because Nicole is another huge
Angelfire
fan just like myself.
Our hopes in bringing this read-along to all of you awesome bookworms is that 1) if you haven't gotten the chance to read the series and/or you kept putting it off, now's your chance, 2) for those of us who have already started the series (either by reading Angelfire and/or Wings of the Wicked), we can relive it again amongst other fans like ourselves just in time for the big finale, and 3) we just want others to be aware of how amazing and epic and awesome this series really is!
So, today I am here to bring you all the deets that Nicole and I whipped up. Pay close attention because if you don't, you just might get lost! ;)
Title:
Angelfire
Author: Courtney Allison Moulton
Publisher: Katherine Tegen Books
Release date: February 15, 2011
Find Courtney Allison Moulton online:
Website
|
Twitter
|
Blog
|
Facebook
|
Tumblr
First there are nightmares.
Every night Ellie is haunted by terrifying dreams of monstrous creatures that are hunting her, killing her.

Then come the memories.
When Ellie meets Will, she feels on the verge of remembering something just beyond her grasp. His attention is intense and romantic, and Ellie feels like her soul has known him for centuries. On her seventeenth birthday, on a dark street at midnight, Will awakens Ellie's power, and she knows that she can fight the creatures that stalk her in the grim darkness. Only Will holds the key to Ellie's memories, whole lifetimes of them, and when she looks at him, she can no longer pretend anything was just a dream.

Now she must hunt.
Ellie has power that no one can match, and her role is to hunt and kill the reapers that prey on human souls. But in order to survive the dangerous and ancient battle of the angels and the Fallen, she must also hunt for the secrets of her past lives and truths that may be too frightening to remember.

• • • • • • • • • • • • • • •

Purchase Angelfire: Amazon | Barnes & Noble | Book Depository | IndieBound
Momo's Reviews: Angelfire | Wings of the Wicked
#ReaditandReap Read-Along Details
What: a read-along of the first two books (Angelfire and Wings of the Wicked) in the Angelfire series by Courtney Allison Moulton leading up to the third and final book (Shadows in the Silence) release on January 29th, 2013
When: the read-along will start on November 29th-January 29th
- November 29th-December 29th will be the read-along for

Angelfire

.
- December 29th-January 29th will be the read-along for Wings of the Wicked.
- Because November 29th falls on a Thursday, the read-along will officially start on Monday, December 3rd. Also, because January 29th falls on a Tuesday, the read-along will officially end on January 25th.
Where: me and my co-host, The Reader's Antidote, will take turns posting on our blogs
- Check back on Thursday, November 29th for the schedule.
Who: the hostestes with the mostests: Momo from Books Over Boys and Nicole from The Reader's Antidote
- Read-along is open to everyone and anyone.
- Note: International fans, you can enter the monthly giveaways but the grand prize giveaway is open to US residents only, sorry.
Why: because we are super-duper big fans of the books and we want to rub our love of these books onto others and make them big fans of the series as well
How: each week, Nicole and I will assign chapters for you to read; make sure you check our blogs weekly so you don't fall behind or go to far.
- Remember, check back on Thursday, November 29th for how the schedule will work.
Now you know all that
there is to know
... well, mostly everything, lol--the rest that wasn't covered in today's post will be all laid out for you on Thursday, November 29th--Nicole and I
sincerely hope
that you will join us in this read-along!
We have lots of awesome goodies headed your way. For example (this is the part where I pull out the
incentives
and... fun read-along ideas and pray that they will help
persuade
you into signing up),
there will be weekly discussion questions posted where we can all come together to really talk Ellie, Will, Cadan, and crew Angelfire
there will also be weekly quizzes where Nicole and I really test your knowledge of the books
each week, there will be one participant who will win awesome Angelfire swag
there will be two monthly giveaways where two participants (one per month) will win a pre-order of Shadows in the Silence, the final conclusion to the Angelfire trilogy
and lastly, there will be a grand prize of a signed set of the entire Angelfire trilogy + swag to one read-along participant.
See? Doesn't that sound like a whole lot of fun? Sign-ups will be open until December 29th but the sooner you sign-up, the higher your chances are at winning a pre-order of Shadows in the Silence as well as the epic grand prize!
So, how 'bout it? If you'd like to take part, please sign-up in the linky list below.
Please enter your name and a link to your blog and/or a social link where we can find you.
Did you pay the
closest of attention
? I told ya there was a lot of info! I hope you didn't get lost but have no fear
the reaper
, we'll be re-posting all this info throughout the read-along to remind you!
Please help spread the word! Here's the
official read-along button
! Sport it on your blog sidebar, use it as your twitter and/or facebook icon because that would be really cool!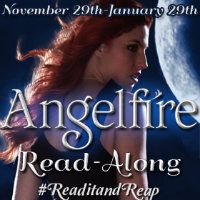 A very big thank you to the
uber talented
Giselle from
Xpresso Reads
for designing the read-along banner and button; we both love it crazy!
Sidenote: If you're on twitter and you would like to follow along with the read-along, please use the following hashtags:
#FeartheReaper
|
#TheLittleReapers
|
#ReaditandReap