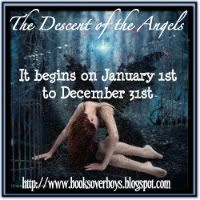 OMG! It's April already! The past three months have passed in a blur, don't ya think?! :) We only have nine more months to go! Eek! Before we know it, they will have passed before us in a blink of an eye!
The winner for March can be found
here
!
Onto this month's giveaways for April's angel reviews! This month's giveaway consists of a:
A copy of Heavenly by Jennifer Laurens along with a T-shirt

An ARC of Clockwork Angel by Cassandra Clare

INT'L winner: any book $10 or under from The Book Depository
Remember to leave the direct link to your review and leave the name/alias you signed up with! Good luck and happy reading! :) Also, if it isn't too much, would you mind leaving a comment after you link your review so I can be sure to check out your review? Thank you! *__*


If you want to sign up, the original post can be found
here
!
*NOTE: I am using a new linky so if your review URL is more than 100 characters, please leave the link to your review in the comments and I'll find a way to link it! I apologize for the inconvenience!