Today, in this very second is the kick-off for the Once Upon A Read-A-Thon hosted by Lori at
Pure Imagination
, Candace at
Candace's Book Blog
, and Angela at
Reading Angel!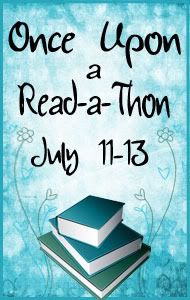 This button links back to all the information you need to know about this read-a-thon!
I really only have a day to read because today is Saturday and I'm going to be busy and then that leaves Sunday and Monday...but the two books that I am planning to read NEED to be read before Monday because...well, because I'll be meeting the authors, LOL :) BOO YAH! So, that basically only leaves me with Sunday...I CAN DO THIS!
My goal, like I mentioned above is to read two books: Linger by Maggie Stiefvater and Abandon by Meg Cabot. I will be going to their book signing on Monday in San Francisco; the This Is Teen book signing so that is my motivation to get these books read before then!
In Maggie Stiefvater's Shiver, Grace and Sam found each other. Now, in Linger, they must fight to be together. For Grace, this means defying her parents and keeping a very dangerous secret about her own well-being. For Sam, this means grappling with his werewolf past . . . and figuring out a way to survive into the future. Add into the mix a new wolf named Cole, whose own past has the potential to destroy the whole pack. And Isabelle, who already lost her brother to the wolves . . . and is nonetheless drawn to Cole.

At turns harrowing and euphoric, Linger is a spellbinding love story that explores both sides of love -- the light and the dark, the warm and the cold -- in a way you will never forget.
New from #1 New York Times bestselling author Meg Cabot, a dark, fantastical story about this world . . . and the underworld.

Though she tries returning to the life she knew before the accident, Pierce can't help but feel at once a part of this world, and apart from it. Yet she's never alone . . . because someone is always watching her. Escape from the realm of the dead is impossible when someone there wants you back.

But now she's moved to a new town. Maybe at her new school, she can start fresh. Maybe she can stop feeling so afraid.

Only she can't. Because even here, he finds her. That's how desperately he wants her back. She knows he's no guardian angel, and his dark world isn't exactly heaven, yet she can't stay away . . . especially since he always appears when she least expects it, but exactly when she needs him most.

But if she lets herself fall any further, she may just find herself back in the one place she most fears: the Underworld.
Good luck to everyone and happy reading!
_________________________________________________________________________________
*UPDATE UPDATE UPDATE UPDATE UPDATE UPDATE UPDATE UPDATE UPDATE*
OK! I know, I am an idiot. I did not notice that the button said
JULY 11TH-JULY 13TH
. So here's this post stating what I was going to read for the read-a-thon IF it had started today. Well, if you want to participate, then click on the button above and go sign up. I will still be reading these two books this weekend anyway, so think of this as an impromtu read-a-thon for myself! :) *facepalm* YES, I know, I am a moron. Thank you for stating the obvious. <3
Again, happy reading!