Hello,
Little Reapers
! Welcome back to the
sixth week
of the
Angelfire
Read-Along. We are well into
Wings of the Wicked
, book two in the series. I was just bookmarking my copy earlier and found out that chapters
one through seventeen
make up a huge half of the book,
more than half
, actually. Speaking of half, that means we are almost
through this month
which also means that this read-along is
almost at its end
. Oh my sweet goodness, that also means that Shadows in the Silence is that much closer to being in my hands. Aah, talk about freaking the freak out!
Hey,
fun tidbit
for you guys. On the same exact day that
Shadows in the Silence
hits stores (1/29), the paperback of
Wings of the Wicked
(with all these
super duper
sweet extras) will be releasing as well. Talk about a
double win
! I mean, this might not be such a
big deal
to those of you who already own the
hardcover copy
of book two, but I'm just freaking out because I have like...
every version
of the books in this series so I
so seriously
cannot wait.
Today, CAM tweeted:
And then tweets with these photos started flowing in: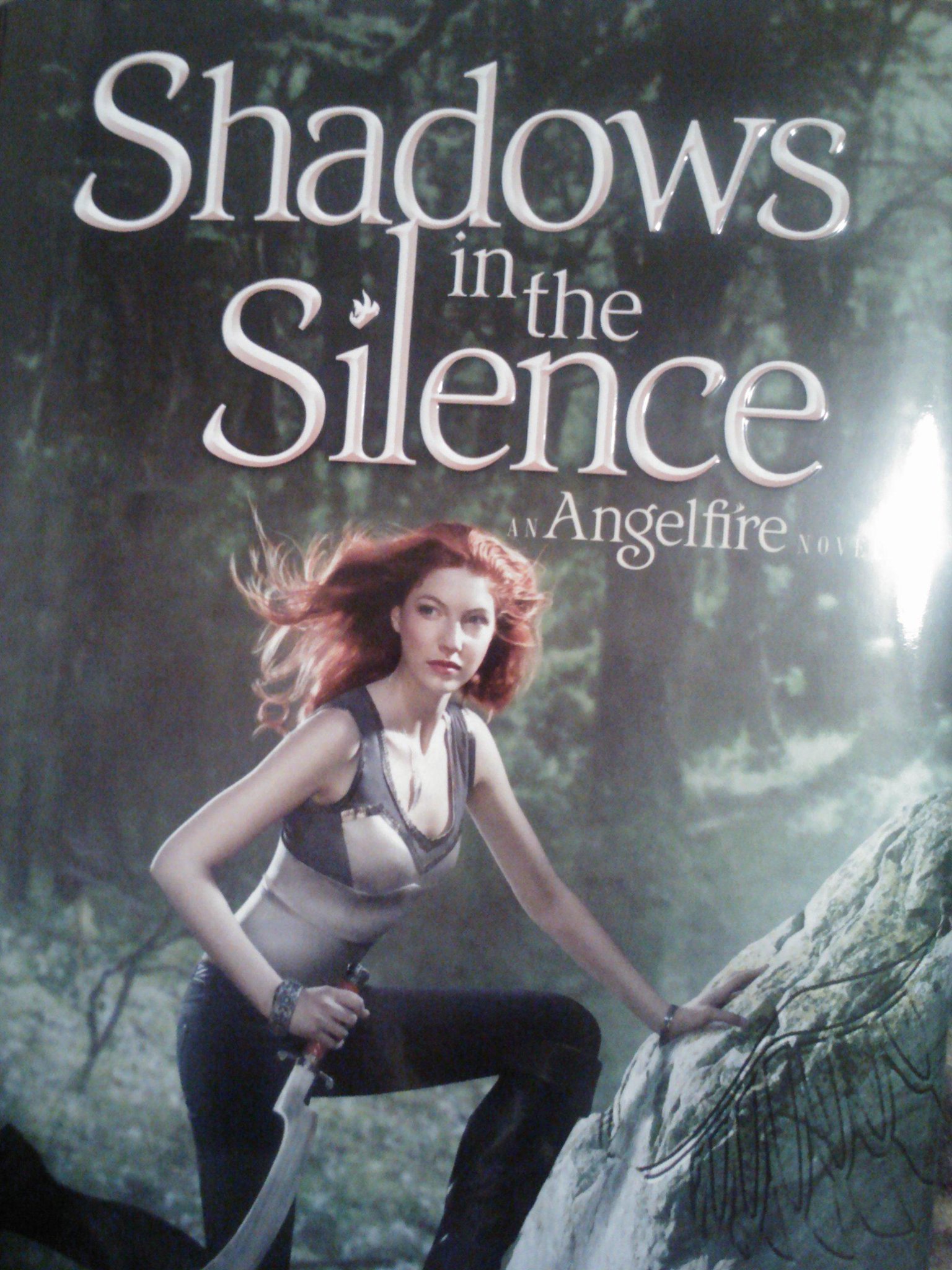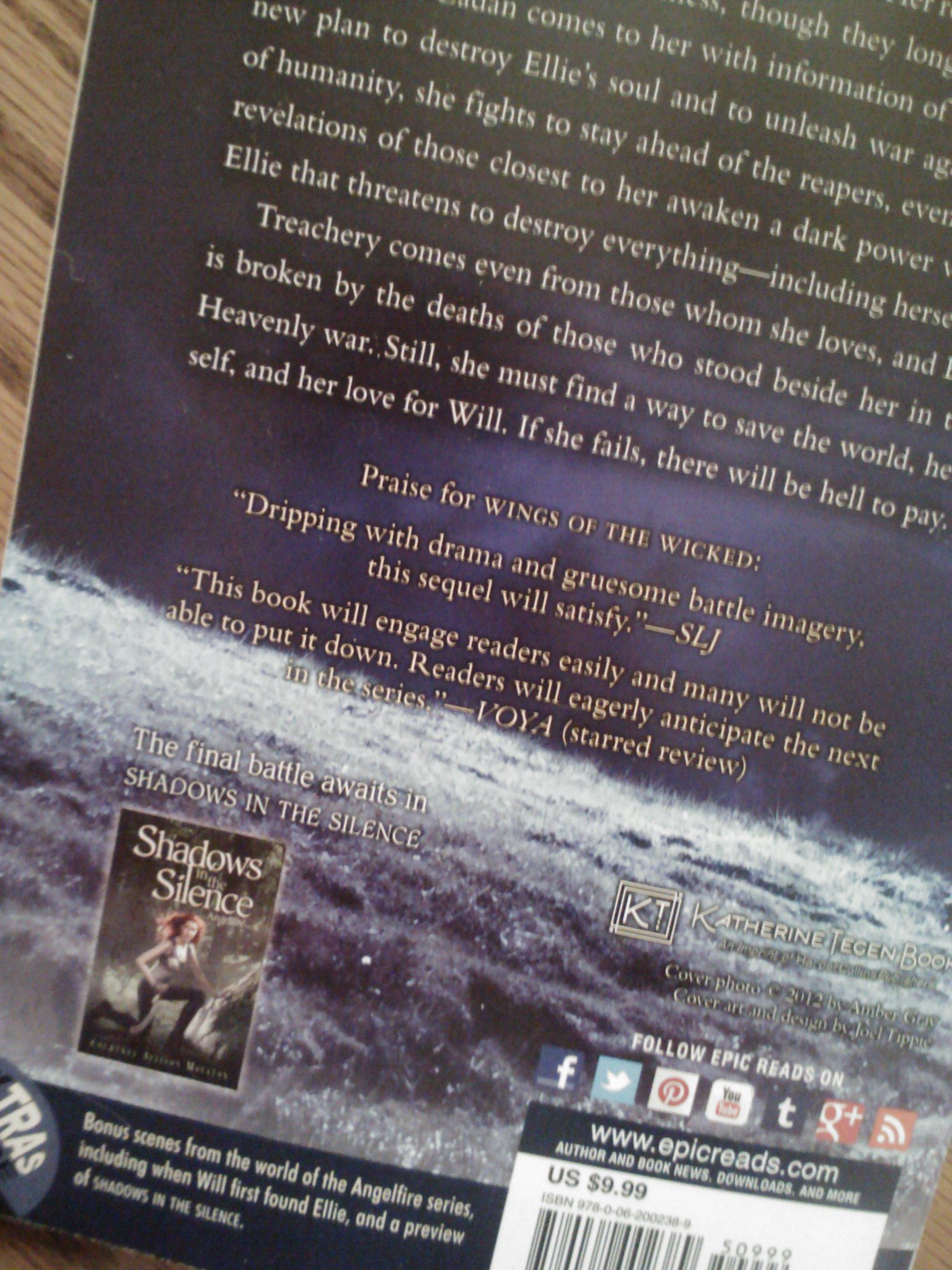 Courtney Allison Moulton's author copies of Shadows in the Silence (finished hardcopies) and Wings of the Wicked (paperback copies).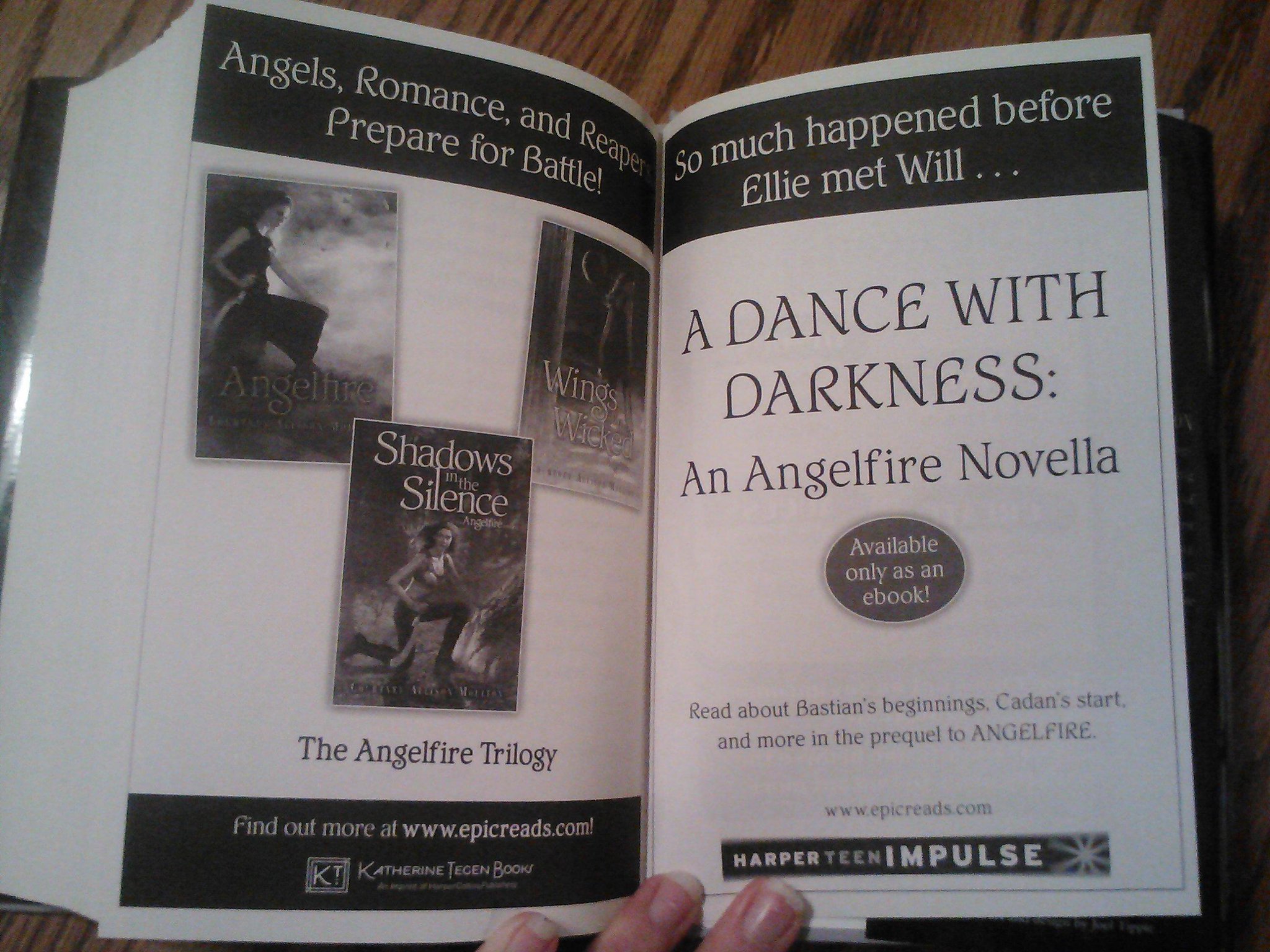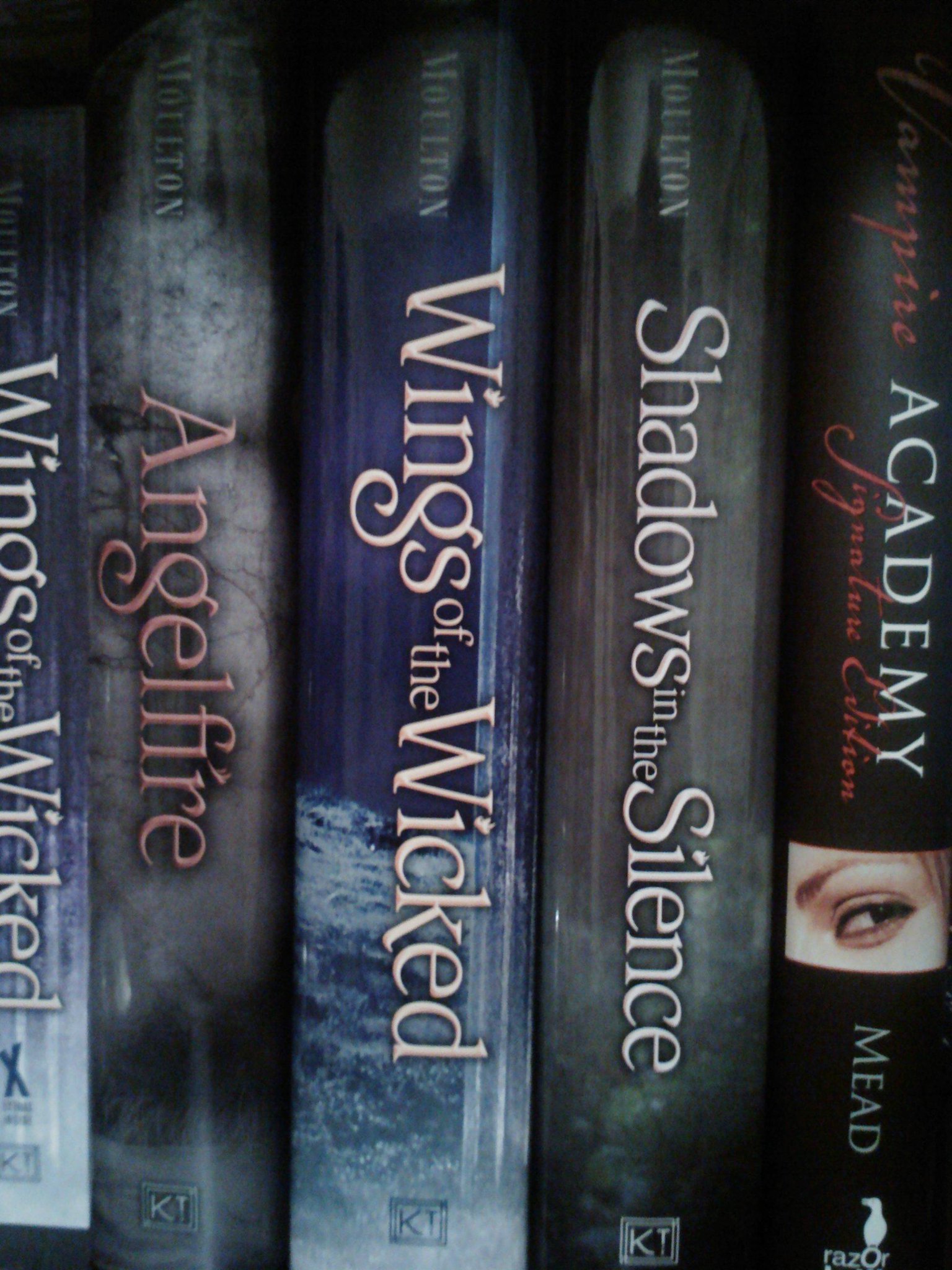 First photo: ads in the back of the paperback of Wings of the Wicked. EEP! *flails about*
Second photo: the Angelfire trilogy on author, Courtney Allison Moulton's, bookshelf.
Yeah guys, it's happening. It's almost here. I really hope all of you are enjoying these books. And I especially hope that you guys will enjoy this week's chapters.
The chapters you need to read for this week are #9-17 from Wings of the Wicked.
Oh man, the chapter that absolutely made
Wings of the Wicked
the
novel for me was chapter seventeen. I'll never forget that chapter, like ever. To be honest, *cringes* even though I'm one of the hosts of this read-along, I'm behind on my reading. *hides from the glares and the pitchforks* I know, I know--epic Momo fail but I'm not much of a re-reader (
read this post for a better understanding about why this is
) so I suck but hey, I'm almost done with
Angelfire
. I only have about five chapters left and then onto
Wings of the Wicked
I go.
Anyway, chapter seventeen (plus the ending--ohmygawh!) glows like a bright ass beacon whenever I think about
Wings of the Wicked
. Like I've mentioned hundred of times before, the way how CAM was able to capture all these pure and raw emotions in both Will and Ellie left me stunned and just jaw-dropped. All their feels were rolling across the pages and it was so hard to not get caught up in the waves.
I'm a sucker for the aches and the pain and those were more than present during that chapter. I could see it so clearly in Will's eyes to feeling it so strongly in Ellie's chest. I didn't know how to react besides keeping my eyes glued to the pages. I wasn't even mad or sad or happy or... anything. I was just wide-eyed as I took it all in. Some might not feel the same as I do but man, CAM's genius did something to me; I don't know what it was but I love it! I hope that when you guys get to chapter seventeen, you guys will experience the same emotions that overcame me and go, "Damn, no wonder she's hooked! I get what she's talking about," oooooor... you guys might read it and think I was nuts. Either way, I hope you guys read it, haha!
Before I get to this week's discussion question (which i almost forgot to post, lol. i seriously thought i already typed it up because my post is already so long), there's one more thing I really want to share with all of you. So, on
CAM's website
she has images/drawings of her characters that are just about the coolest things I've ever seen. For a long time, that's pretty much how I pictured her characters. Then one night as I was watching The Vampire Diaries, I tweeted something about Jeremy Gilbert being one of the hottest guys on the show (because he didn't used to be as attractive earlier in the seasons as he is now... to me, anyway) and then CAM responded with:
he wants to be Will
. And then it hit me like freakin' Superman coming to earth in his meteor... thingy!
I was like:
And then all the missing puzzle pieces started to click in place. If you watch
#TVD
, (i can't recall if it was the mid-season finale episode where jeremy was being extra sexy but...) well then you know that Jeremy came out from behind the Salvatore brothers and now he's giving them a run for their mulah in the hot and sexy department. In season four, his arms are like... to effing die for, he's developing tattoos along his right arm (i think), and he's more than rocking that short hair do. I mean, hello! He's the perfect Will.
Now as for Ellie, because she's the main character, I'm more hesitant on pinning a celebrity on her but today I ran across who CAM thinks would be perfect for her and after Google-ling her, I think she would be just right.
Steven R. McQueen for Will and Alexia Fast for Ellie.
What do the Little Reapers think of this duo? Seriously, let me know in the comments.
Okay, now onto this week's discussion question. As you start to read chapters nine through seventeen, keep this question in mind and come back and answer it in the comments below to be entered to win a pre-order of
Shadows in the Silence
.
If you had to destroy yourself in order to save the people you love and everyone else on earth, would you do it?
Head over to
Nicole's blog on Friday
to see me and Nicole's responses to this question. The trivia quiz for chapters #9-17 will also be posted on
Nicole's blog this Friday
so make sure you don't miss it! The more quizzes you partake in, the higher your chances are at winning a signed set of the
Angelfire
trilogy plus really cool swag!
Reminder: answer the question in this post's comments to be entered in the giveaway.
a Rafflecopter giveaway
Help
spread the word
about the read-along by grabbing the official read-along button!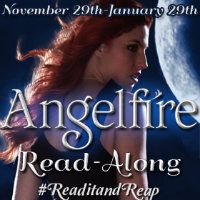 Happy reading! Ooo wait, one more thing! I'm really curious to hear/see/read your thoughts as you read (whether you're reading it for the first time or the second; it's an experience either way) so if you're on twitter, tweet your reactions at me (
@BooksOverBoys
) and/or use the hashtags:
#ReaditandReap
and/or
#AFreadalong
. It's so fun to see what other people think as they're reading! If you're not on twitter, make a blog post of your thoughts and reactions and observations and leave a comment below with your link and I'll definitely stop by!
I really, seriously mean it because as I have made it more than obvious in this post, my most favorite part is coming up so you know, keep me in the know with your feels as you read! Please? I'd love ya quite a bit.
Okay, now... happy reading!
P.S. Today, as you can totally tell, I was...