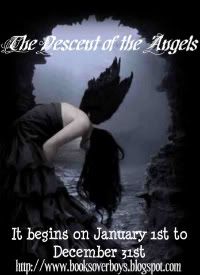 I apologize! I know, I have been an extremely awful host at this! And the link keeps going up days, even weeks after the first day of every month, but I am beyond grateful for every single one of you that has stuck by me and continued on with this challenge!

Anyway, we are heading towards the end of the year and that means that the challenge is slowly but surely coming to an end! Ah, how is everyone doing with their goal of twelve books?! I haven't been keeping track but I feel like I've only been reading angel theme books!
The winner for the month of July has been contacted already and it was:
Congratulations!
PLEASE READ ↓ ↓ ↓ :) THANK YOU!
I have been trying really hard for the past couple of months to get all participants onto the linky so
IF YOU ARE A PARTICIPANT, MAY YOU PLEASE HEAD ON OVER

HERE

AND RE-SUMBIT YOUR INFORMATION! PLEASE AND THANK YOU!
Now onto this month's prizes and the mister linky.
A signed copy of Angelfire by Courtney Allison Moulton

A copy of Heavenly by Jennifer Laurens along with a T-shirt

An ARC of Clockwork Angel by Cassandra Clare

INTL winner: any book $10 or under from The Book Depository
Remember to leave the direct link to your review and leave the name/alias you signed up with! Good luck and happy reading! :) Also, if it isn't too much, would you mind leaving a comment after you link your review so I can be sure to check out your review? Thank you!
If you want to sign up, the original post can be found
here
!
NOTE: I am using a new linky so if your review URL is more than 100 characters, please leave the link to your review in the comments and I'll find a way to link it! I apologize for the inconvenience!