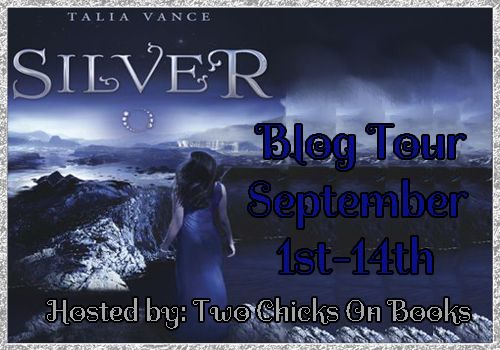 Hey everyone! Thanks for stopping by my stop on the Silver blog tour hosted by the wonderful,
Two Chicks On Books
. I was so stoked to be asked to take part because I couldn't wait to read Silver and I knew without a doubt that I would most likely enjoy the heck outta it! Read my
review
below to find out what I thought about it! Also, don't miss the fabulous giveaway that Talia Vance is sponsoring! There are signed copies of Silver up for grabs as well as a super-duper cool charm bracelet like Brianna's that you do not want to miss out on!
About the Book:
Title: Silver
Author: Talia Vance
Publisher: Flux
Release Date: September 8th, 2012
"As I step into the room, a silver flash blurs my vision. Before I can take a breath, the world falls away."

Brianna has always felt invisible. People stare right past her, including the one boy she can't resist, Blake Williams. But everything changes at a house party when Brianna's charm bracelet slips off and time stands still. In that one frozen, silver moment, Blake not only sees her, he recognizes something deep inside her that she's been hiding even from herself.

Discovering she is descended from Danu, the legendary Bandia of Celtic myth, Brianna finds herself questioning the truth of who she is. And when she accidentally binds her soul to Blake, their mutual attraction becomes undeniable.

But Blake has his own secret, one that could prove deadly for them both.

Bound together by forbidden magic, Brianna and Blake find themselves at the heart of an ancient feud that threatens to destroy their lives and their love.

Links to purchase Silver:
Amazon
|
Barnes & Noble
|
Book Depository
More About the Author:
Talia Vance is a practicing litigation attorney living in Northern California with her real life love interest, two-point-five kids, and a needy Saint Bernard named Huckleberry. Talia has been writing since she could talk, making up stories for every doll, stuffed animal and action figure she could get her hands on. She grew up hoping to write the great American novel, but her life ran more along the lines of tortured romance and fast paced thrillers, so that's what she writes.
Find Talia Vance Online:
Twitter
|
Website
|
Blog
My Review:
Silver was a debut that I've been wanting to read since a long while now so when I got asked to take part in the tour, I absolutely couldn't hold back my excitement! As soon as I started reading it, I was filled with an onslaught of crazy butterflies in my tummy because when you read the synopsis, you know crazy stuff's going to go down and sure enough, from the get-go, that crazy stuff goes down asap so I was thrilled to take off so soon when reading Silver.
Read my full review here.
Giveaway:
Fill out the Rafflecopter and good luck!
a Rafflecopter giveaway
More Tour Stops:
9/13/2012- Fiktshun- Celtic Myth Guest Post