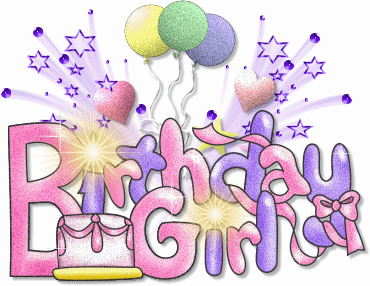 Another day! Woot woot! Today I'll be answering a couple of questions!
Question from Farrah (I Eat Words):
Happy birthday!
How many states have you traveled to? :)
Answer from Momo:
Thanks Farrah! How many states? Hmm, I think in my whole lifetime, I've only been to two! And they would be Oregon (when I was young, well younger than I am now) and Nevada (you know, Lake Tahoe and such!).
Question from Akasha Hale:
Do you enjoy eating Tacos? I happen to love and desire Tacos.
Answer from Momo:
Yes, I enjoy eating Tacos very much, BUT only when I haven't had them in a long while, lol! #TacoParty2011
Thanks you two for asking the questions!
Sixteen is a magical age. At least it was for me. My whole life I was excited to be sixteen. There is even an expression about being Sweet Sixteen, like any sixteen year old girl is considered a princess. My mom raised me on musicals and one of her favorites was The Sound of Music. There was that romantic musical number by the oldest daughter singing to her boyfriend about being sixteen going on seventeen. (Incidentally, that scene also inspired my love of gazebos, one of which is placed in my favorite setting in the book.) At sixteen, I had my license and a car. My friends and I could go anywhere we wanted without our parents having to drive us (in theory at least). My parents allowed me to date when I turned sixteen. I thought I'd be dating all the time. I had visions of being all dressed up and waiting to go to school dances with the guy I had a crush on. I was sure that when I was finally of dating age he'd notice me and beg to go out with me. Life didn't really turn out that way but when I was fifteen that's how I imagined it. And even though I now know the reality of being sixteen, it's still a romantic notion in my head. It's a time in life where you are just starting to spread your wings and the world has no limitations yet. You're just starting to really figure out who you are.
In Intrinsical, sixteen-year-old Yara is just starting to develop her 'Waker' abilities, the gift that allows her to see and talk with ghosts. The women in Yara's family have this ability and it's not something she wants to deal with. She wants to think about boys and dances and just hang out with her friend Cherie, but life doesn't always work out that way and her Waker talent develops. She's trying to grapple with being a Waker while still being a normal teenager. Until Yara's first day at Pendrell she had never seen a ghost, let alone tried to communicate with one. When she does encounter one she's been thrown into the deep end of the world of disembodied spirits. Yara is learning and growing right in front of our eyes like any normal teen, while also dealing with a whole slew of supernatural challenges. Whether you see ghosts or not, sixteen can be a magical and scary age.
• • • • • • • • • • • • • • • • • •
OMg! I love The Sound of Music! I totally know which part you're talking about! Thanks for this incredible guest post!