Over the next four days, I'll be revealing snippets to the cover of the third book in the
Marked Men
series by Jay Crownover titled,
Rome
! I am so over the moon to be a part of this reveal because I absolutely adore this series like mad and I am so dying for
Rome
-- counting down the days until I can hold it in my hands, eep!
I can't wait to show all of you the puzzle pieces to the cover over the course of these four days; it's exciting for me as well because I'll be right beside you as the cover's slowly getting revealed. I'm bouncing with excitement as we get to see more and more! Stay with us because we don't want you to miss out on any part of it!
I know you're all dying to see the first part so, without further ado, check. it. out. !!!!!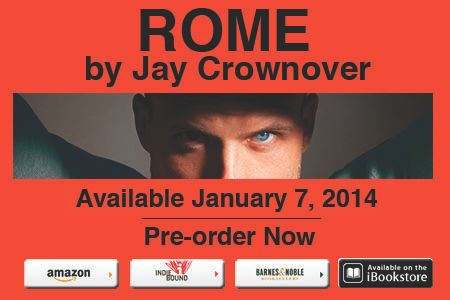 Title: Rome (Marked Men, #3)
Author: Jay Crownover
Publisher: William Morrow Paperbacks
Release date: January 7, 2014
Cora Lewis is a whole lot of fun, and she knows how to keep her tattooed bad boy friends in line. But all that flash and sass hide the fact that she's never gotten over the way her first love broke her heart. Now she has a plan to make sure that never happens again: She's only going to fall in love with someone perfect.




Rome Archer is as far from perfect as a man can be. He's stubborn and rigid, he's bossy and has come back from his final tour of duty fundamentally broken. Rome's used to filling a role: big brother, doting son, super soldier; and now none of these fit anymore. Now he's just a man trying to figure out what to do with the rest of his life while keeping the demons of war and loss at bay. He would have been glad to suffer it alone, until Cora comes sweeping into his life and becomes the only color on his bleak horizon.




Perfect isn't in the cards for these two, but imperfect might just last forever . . .
Amazon | IndieBound | Barnes & Noble | iBookstore
About the author:
I'm a native Coloradoan and if you live here you know why that is a source of pride. I love all the things Colorado has to offer and that is why I choose to set my books in this familiar setting. I try to write about things I know and am familiar with which is why my stories feature plenty of rock and roll and body modification.
I've been in the bar industry since I was in college and I spend over forty hours a week watching the interaction between men and women in a unique way. I think my 9 to 5 job offers me valuable insights into how relationships start and evolve in a social setting. I love it.
I like to write New Adult novels because I remember being in my early twenties and thinking I had it all figured out only to be proven wrong time and time again. When I look back those were the years that defined who I am today, and good or bad those decisions untimely set me on my current path, so that's what I like to explore in my writing.
Connect with Jay Crownover:
Website
|
Facebook
|
Twitter
|
Goodreads
This post is brought to you by: