If you don't know anything about me, the one thing you should know is that I am the biggest fan of the Personal Demons trilogy by the one and only, Lisa Desrochers. I gush, I squee, I swoon, I flat line, I pass out, and I hyperventilate all the time when I talk about the books, the guys, the plot, the....everything. One of the best series ever. Today, I have the biggest honor of revealing the title to The Novel Formerly Known as Hellbent!
Excuse me while I go and freak the freak out! *runs to the room next door* I look a bit like this:
or something like this:
or something like this: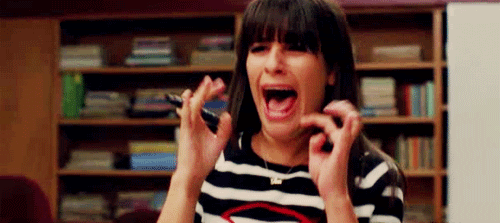 and this is me now:
*returns to the room*
Whew, can you feel my excitement for revealing this to all of you? Are you excited for this? Are you ready for this? Well, first:
I really feel like I'm babbling on and on in this post and you probably didn't even read all of this. Right when you opened this post you probably just scrolled down until you discovered the title. So....I will post it now.


The third and final book
in the Personal Demons trilogy
by Lisa Desrochers is:
↓ ↓ ↓ ↓ ↓ ↓ ↓ ↓ ↓ ↓
So, what do you think?! Personal Demons, Original Sin and Last Rite. I think it fits perfectly with the whole series and it certainly has a vibe like the end, doesn't it? Or is that just me? Let me know what you think about the title, the books, the series overall, in the comments! I would lurve to hear them!
A fun little tidbit for you all: Lisa Desrochers's critique partner, Andrea Cremer, gets the credit for coming up with this awesome title!
And now I leave you all with the Last Rite tagline:
↓ ↓ ↓ ↓ ↓ ↓ ↓ ↓ ↓
What happens when you can't outrun Hell

—

or trust the ones you love?
I scribe YA novels. PERSONAL DEMONS is in stores now, and the sequel, ORIGINAL SIN is due out on July 5, 2011. My omnipotent uberagent is Suzie Townsend at FinePrint Literary Management.
When I'm not writing, I'm torturing some poor unsuspecting patient, lecturing in some less-than-exotic city...or blogging...or maybe just sleeping, but that doesn't sound nearly as cool.