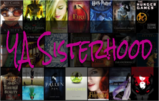 At the beginning of July, the YA Crush Tournament initially began and immediately it became a big hit with bloggers throughout the...web (yes, I almost said world). In short, it's a tournament where the top 25 most crush-worthy male characters of the Young Adult world come together and

battle

it out via votes from the fans. I wasn't aware of the nominations so I didn't take part in that but because of my amazing blogger friend, Jaime, I ran across some of her tweets the night that the top 25 male characters were posted. At first, I wasn't planning on participating but when I took a look at the top 25, I thought

well, hey this could be fun and now here I am. Note: This night was July 2nd.
Six days later, on Wednesday, July 6th, the first match began: Nash versus Hale and St. Clair versus Puck. Because there are so many crush-worthy male characters, every two days two separate matches took place. Each match day lasts about 40 hours; enough time to vote and campaign for more votes. Within the first four days of the tournament, all the fans came and voted to support their most favorite crush-worthy male and in doing so, we crashed a few of the voting systems. Note: Round one → vote as many times as you'd like. Now because the voting sites couldn't and didn't understand our unconditional love for our boys, in round two, it became one vote per computer.
Round two just started on Monday, July 18th where Four was pitted up against Hale and Tod against Archer. Yesterday was the start of the third and fourth matches of round two: Jace versus Jules and Michael versus Tucker; they both end at midnight today. Now tomorrow is the BIG DAY. If you didn't or couldn't tell, I am the advocate for Patch Cipriano from Becca Fitzpatrick's Hush Hush saga. Starting tomorrow morning, at 8AM CST, Patch's match will begin. He is up against Peeta from Suzanne Collins's The Hunger Games. Same thing for every match—it will last 40 hours long, so that means polls close at midnight on Saturday, July 23rd.
If you are a fan…or not, please stop by The YA Sisterhood and vote for Patch! Until then, spread the word to anyone and everyone who will listen…heck, even if they don't listen! ;)
I want to thank the fabulous girlies over at The YA Sisterhood for hosting this amazing tournament—the best thing that the blogosphere has seen, the incredible authors for taking the time to do shout-outs for their boys—to gather in voters, and last but not least, thanks to all the advocates for making this such a fun thing for me—all of our crazy tweets on twitter, just everything has been so much fun.
And remember, VOTE PATCH!