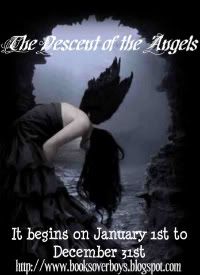 I hope you've all been having fun reading all these awesome angel books! Wow! did January go by in a blur or what?! I'm totally bad with keeping up with all these challenges, lol! Anyway, lets get to what you guys all came here for!
The winner of January's angel reviews is:
CONGRATS! Val has already been contacted and she has already claimed her prizes!
Descent of the Angels Reading Challenge UPDATE: This month Books Over Boys will be hosting the giveaways! I'll have the review post up soon!
Good luck with the challenge and always, happy reading! *__*